2019 in retrospect
January 03, 2020
Thoughts on personal experiences that happened in 2019. Some happy, some sad, in no particular order:
A new job - security engineer
I started this year off as a software engineer (frontend) and ended the year as a security engineer. I actually started this blog while in between jobs in hopes to share my experiences in transitioning careers. And at the same time, I hoped this blog would help me find clarity in what I would do since my role in security is a little unique.
Previously I was building UIs for observability in kubernetes clusters. Now I'm figuring out and building ways to make security usable in a variety of things. I've been interested in security for a while and combining UI/UX with that was the perfect (though daunting!) intersection. It's also in an industry that I never thought I'd be involved with, autonomous vehicles. 🤩
But to be honest, I was really sad when I left my previous job. That was my first job out of college and I had a great manager, friendly coworkers, and interesting work. But looking back, it was the right decision.
I also negotiated this time…and killed it. 😎 That was pretty cool.
Taiko the foster dog
I fostered a sweetheart of a dog in 2019. He was a 5 year old Jindo from a SoCal shelter. I called him Taiko.
Taiko came from a rough background and had some issues associated with that. Regardless, it was amazing to watch him bloom and grow into his own fun personality. He was a little dog in a big dog body.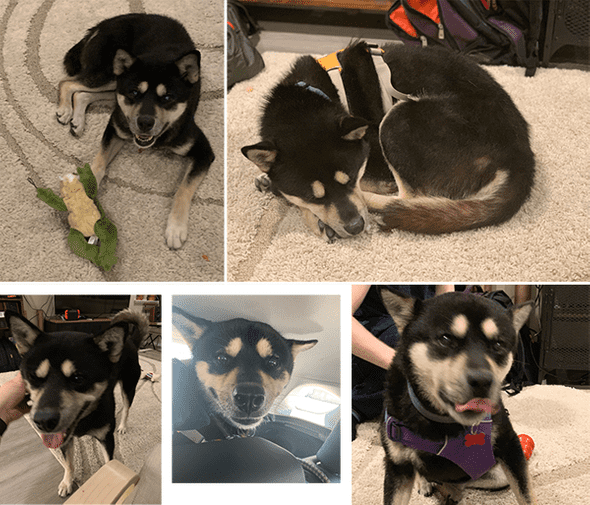 When we first got him, he wasn't in the best shape. He was malnourished where some of his teeth were flat from chewing rocks and his fur was in incredibly rough shape. In the beginning, Taiko would flinch if you tried to pet him. He didn't have the best experiences with humans.
One of my favorite memories was how he was so happily dramatic to be petted when I came back from a short trip. Have you ever had a dog lean into you for pets? The best. Near the end of the foster, he had so much personality and quirks to him. I would also proudly call him "vantablack dog" since we did a amazing job with fixing up his fur. Taiko was (too) quickly adopted by a lovely couple.
I really wanted to adopt him but it wasn't a great fit since he was not friendly with other dogs. One thing that was made really apparent: large dogs don't get too many second chances. He was 55lb and if he was aggressive with another dog/human, that would not be okay.
Unfortunately, his rough upbringing came up to bite. Not too long ago, he had to be put down and is no longer in this world. I have a lot of thoughts on this but I hope people realize that dog ownership is a huge commitment and that you should do all you can do so an animal can live comfortably.
Writing a proposal
I wrote my first CFP proposal this year and was extremely fortunate to have it be accepted! I'll be speaking on usable security at BSidesSF this coming February. I work in the intersection of usability/software/security which I find really interesting and decided to write a proposal to see if anyone else might be interested in some recent findings. Had a lot of support and advice from acquaintances, friends, and coworkers that really motivated me to actually write the proposal. 🖤
While I've never actually been to BSidesSF, I'm super excited to be speaking in a BSides. I attended BSidesCLE when I was in college (re: broke) and it was the first time I saw a tech conference that I could actually afford!
Mental health
What was my secret to having the confidence to rock a compensation package negotiation: having my therapist as a hype man.
Probably one of my best moves in 2019. I started seeing a therapist again. Going to mental health services isn't new to me as I struggled a lot through college and fortunately had a transformative experience once I found a therapist that I clicked with. (Note: sometimes you gotta shop around for help and find something/someone you click with.)
I really like the Twitter hashtag #TalkingAboutIt to normalize mental health. Having someone point out underlying patterns in your behavior for why you act or think a way is really impactful in initiating change in your life. Back when I was considering the job change, my therapist was the one that pointed out a lot my subconscious behaviors while weighing pros and cons. Apparently my tone of voice and facial expressions would light up when talking about security things and to him it was a no-brainer I take a chance at the career switch.
Friends and family have emotional investments in you. Therapists do not. They can stay truly neutral in helping you figure out what's your best and how to get there.
Taking time off
In 2019 I had the opportunity to visit Singapore at no cost to myself outside of flight tickets. Why? Because I have a terrible sense of work-life balance and I thought work needed me. Well…it didn't.
In my first year of working, I didn't take any PTO for any reason outside of family stuff. This was dumb — breaks are important. I'm my own person and should find things for my own enjoyment. After missing out on Singapore, I spent a little more time for myself and I'm a happier person because of it. My favorite trips for myself this year was going to Kauai (Hawaii) and the staycation while I was in-between jobs.
Student Loans
I paid off my student loans, 30k. Fuck yeah.
2020 goals
I'd like to keep progressing as a decent human being. Intentionally vague and in no particular order:
👩‍💻 - career/tech, ✨ - personal
[✨] Travel somewhere for 1-2 weeks and actually unplug.
[✨] Actually sleep more and stop using caffeine as a blanket fix-all. I use a sleep tracker and there's a mildly concerning amount of red for hours slept. 😅
[✨] Physical fitness! I want to start lifting heavy things again!
[✨] Volunteering used to bring a lot of joy to my life and I want to do this again!
[✨/👩‍💻] Write more blog posts! Aiming for 1 post a month.
[👩‍💻] Submit at least 3 conference proposals
[👩‍💻] Start making moves to better define what I do and position myself to be promoted 😎
[👩‍💻] I'm working on a side project with someone. I wanna see it be released.
---